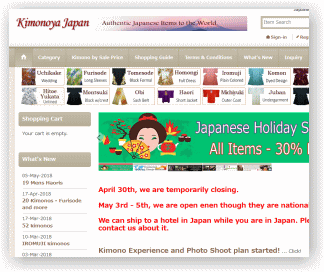 We are secondhand kimono dealer in Osaka, Japan, since 2006. We have more than 2000 authentic Japanese kimonos, yukatas, haoris, obis, furisodes, even Uchikake wedding kimonos for sale on the internet and in our local store.
Also we offer Authentic Kimono Experience and Photo Shoot in our local shop in Osaka.
As we have so many secondhand kimonos, we have been often asked if we rent them.
The answer was "No", because we don't have much kimonos made of washable polyester. We mostly deal in authentic silk kimonos that Japanese people had for their personal use, we don't deal in mass-produced products for tourists.
Often, we see those mass-produced polyester kimonos in tourist spots here. People from all over the world look happy in it, even Japanese young girls. I mean, it is nice and OK, of course, they like kimonos and it makes us happy too. Also we understand that the rented items for tourist should be mass-produced ones if they walk in town in kimonos.
On the other hand, we feel sorry a little bit that they did not have a chance to put on an authentic ones, dyed or woven carefully by well-trained Japanese craftsmen (not printed by a PC printer), well-tailored in Japan, made of natural materials.
It is just a point of view. If we see a kimono as a "fashion", any kind of materials are fine and any kind of way of wearing are fine also. Surely we sometimes enjoy synthetic kimonos when we go out, or we put it on with western clothing. But if we think of a kimono as a "Japanese traditional clothing", we admire its quality.
A Japanese woman rent a kimono for their special occasions or ceremonies spending hundreds of US dollars, sometimes thousands of dollars – just to rent for 1 day. It costs that much if you rent an authentic kimono for traditional use.
We would love to offer you a chance to experience getting dressed in authentic kimono in our shop, taking photos for your lifetime memory in reasonable price. You can not go out in it, but we hope you understand it.
It is our great pleasure to share our knowledge of kimonos with you, talking about the meaning of each design, and having fun together because we both love kimonos!